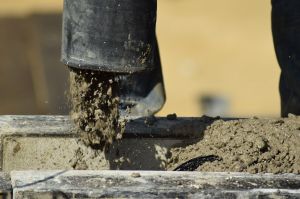 concrete pump" />Construction projects that take place on a larger scale often require certain pieces of equipment. While there are many who associate the concrete pump with a large construction job, there are a wide range of usages that we may not be fully aware of. A concrete pump is able to be used for jobs of all sizes.
There are a number of reasons why we need a concrete pump for construction projects. In order to learn more about the many advantages that a concrete pump has to offer when we are handling construction projects, take a moment to read on and find out everything about the following benefits.
1) Faster Pouring Speeds
This is one of the more underrated benefits when it comes to using concrete pumps. When we are trying to handle various construction jobs, we often lose sight of the fact that speed is important. It does not matter how big or small the construction project may be. The speed at which we are able to pour the concrete is always going to matter immensely.
The process becomes much more simple and easy when we choose this option over all of the potential alternatives. By choosing a concrete pump for the task at hand, we are also able to increase our speed because of the ease of mounting. The equipment is simply mounted to the truck that is being used and this keeps us from having to waste a great deal of time maneuvering.
2) Decreased Number of Laborers
Those who have been working in this industry for a number of years are already well aware of the fact that staffing can be scarce. When we are trying to complete a project quickly and we do not wish to spend a great deal of time trying to find the proper staff members, concrete pumps are a godsend of sorts. The challenge of finding the best laborers is a very difficult.
So why wouldn't we take the time to find out more about the best equipment before we go through all of this trouble? By using pumps for a concrete related construction jobs, we no longer have to worry about the issues that arise when concrete must be poured by workers individually. This is one of the biggest reasons why more companies are turning to concrete pumps more often.
3) Higher Level of Accuracy
When humans attempt to handle the pouring tasks associated with concrete related construction jobs, there is always going to be a certain element of error involved. Even the most highly skilled laborer is going to have moments where their pouring is not up to par. So how do we avoid this sort of error in the future and make sure that our projects have zero mistakes?
By using the correct pump for the job that we are in the process of taking on, of course. This easy decision allows us to use a smaller amount of concrete and steer clear of any delays that could cause us to experienced unwanted budgetary overages.