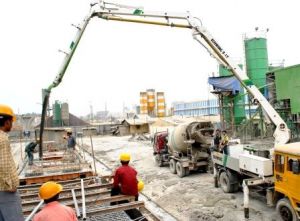 Concrete is one of the most vital key pieces to the most successful construction projects globally. be it railways, skyscrapers, or roads, concrete always has a vital part to play in its construction.
Concrete quite delicate in its own right is easily utilized for multi-purposes as declared in the above statement like any tool needs to be properly utilized in order for it to actualize the most appreciated results.
A concrete pump is a primary tool that pumps concrete to surfaces during construction operations. These equipment are some of the most vital tools that should be in the possession of construction companies, more especially when taking on large construction projects.
Concrete pumps are a must-have for a number of professional reasons on of which is that It pumps concrete to regions or angles which may otherwise be difficult for an in-person application to reach.
The importance of this singular ability can't be overstated as in the field of construction, measurements, alignment, and balance all play huge factors in the successful development of any structure.
Wo who really created this amazing tool that has facilitated global structural development at a large scale?
The man who invented the concrete was Mr. Friedrich Wilhelm Schwing. The then master mechanic invented this amazing tool when he was just about 25 years old and ever since this technology has been adopted by powerhouse constructions in their construction projects.
Why are concrete pumps important in construction?
Concrete pumps are important for construction processes as they facilitate the process in not only being completed at a speedy phase but also ensuring uniform application of concrete as well.
Both of these factors are very key ones when constructing mega structures like skyscrapers and railways as a single mistake could lead to construction faults which could later result in damage to lives and properties down the line.
This might not be the case when being used in small housing projects though due to their small sizes, but regardless it is essential that the best tools and practices are implemented at all times.
How far can concrete pumps pump concrete?
Concrete pumps are capable of pumping concrete for up to 300m in horizontal distance depending on the pump in question. This leaves roof for individuals to stay a distance when it is being utilized thereby reducing the risk of injuries in the process.
What are some of the most common types of concrete pumps?
Boom or truck mounted pump.
These types of pumps are attached to trucks. These pumps utilize a robotic attached arm which is remotely controlled. Its qualities assist a great deal as it pumps concrete to regions all with the aid of remote control.
Trailer or line pump.
These types of pumps are mounted on trailers with hoses mounted to their outlets which serve as the medium of concrete application. These types of pumps allow for more of a direct impact as the process can be closely monitored
Pumps Concrete