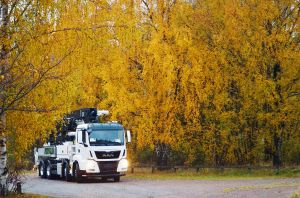 There are lots of used concrete pumps on sale these days and finding the right one to buy might be difficult. So for those that are buying for the first time or those that want to add to their machines, the following tips would be helpful:
The type of pump to buy
The market for used concrete pumps is a very dynamic one and trying to keep up with the trend is very important. Basically, there are mainly three types to look out for, and they are:
Boom or Truck Mounted Pump; this comes with multipurpose robotic arm enabling it to pump much volume of concrete thereby saving time and labor. So, the inventory of a company that stocks boom pump should contain the likes of Schwing 17-Meter Boom Pump, Putzmeister 28-Meter Boom Pump, Concord 28-Meter Boom Pump, etc.
Trailer, line or the stationary pump; this is mounted to a trailer with a hose manually attached to the machine outlet.
Most trailer pumps pump the concrete at a lower rate than the boom pump.
Types of trailer pumps to search for are Putzmeister 14000HPD Line Pump,2017 Putzmeister TK-70 Trailer Pump, electric Putzmeister TK-40E Trailer Pump, etc.
Then, specialized usage pump; these pumps are expensive with some technical mechanism as they are made for specialized jobs.
Types of specialized pumps are the mobile mixer, placing booms, laser screeds, telebelts and so on.
The use of the concrete pumps
Because of its high cement pumping rate, boom pumps should be used for large construction project. Then for smaller pumping works like swimming pools and sidewalks, trailer pump should be purchased.
The type of questions to ask
It is recommended that when buying used concrete pumps, search for someone that knows about it so that the person can do some kind of evaluation on the particular product. Also, questions like how old the pump is, when the last Boom Inspection took place, how worn out are the parts, whether the differential cylinders are in perfect condition, when last the Hydraulic oil was changed, etc. should be asked. It is also important to ask if the pump has ever been involved in an accident. Also, remember to ask for oil sample test.
The best brand to buy
There are lots of brands out there when it comes to used concrete pumps. But it is advised to stick with brands that had been around for a long time. Schwing and Putzmeister concrete pumps are the most popular and had been around for a long time. But generally, questions should be asked from experts in the field or those that own one before purchasing any kind of pumps.
Cost
The cost of buying a pump is an exorbitant one. So adequate planning has to be done for its payment. If $25,000 - $200,000 is not available in cash for the purchase, options like getting a loan from a local bank should be considered. Also, equipment financing or leasing company, the seller, family or friends can also be asked for loans.