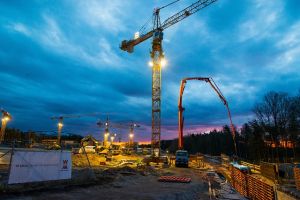 If you are in the market for a new or used concrete pump, then you are in the right place now! Concrete Pumps USA has the largest line of concrete pumps for sale in North America, and we offer financing options with competitive terms for qualifying applicants. We have all the brand names you love and recognize, and our affordable concrete pumps can help you increase your construction company's bottom line significantly. Shop online and check out our stock of lean, mean, money-making concrete pump machines!
What Kind of Concrete Pumps Do We Have for Sale?
You'll be pleased to find out that Concrete Pumps USA has a large selection of different kinds of concrete pumps for every need and every project. Choose from the following:
Boom Pumps
Trailer Pumps
Telebelts
City Pumps
Laser Screeds
Placing Booms
Mobile Mixers
Stone Slingers
In addition to a variety of different kinds of concrete pumps, Concrete Pumps USA sells the brand names that you know and trust, including the following:
Putzmeister
Schwing
Reed
Alliance
Concord
Cifa
Sany
Olin & Mayco
Should I Buy a Concrete Pump from Concrete Pumps USA?
When you purchase your concrete pumps from Concrete Pumps USA, you can't go wrong! We offer full lifetime warranties on all of our concrete pumps for sale, and we have the best machine mechanics in the business. When you buy a concrete pump from us, new or used, you know you're getting a well-maintained machine. You know you're getting the best of the best every time. That's why more and more people are choosing Concrete Pumps USA when they're looking for a concrete pump for sale, and we encourage you to do the same!
Why Should I Buy a Concrete Pump?
A concrete pump is a source of income all by itself. If you're not using it, you can be renting it to other construction companies. Your concrete pump should be earning you steady revenues all year long. Indeed, a concrete pump is an investment worth making for any construction company. Don't go through the hassle of renting, booking, and waiting for a concrete pump when you need it to get a job done, and don't hire out every time you need concrete laid! Save your money, save your time, and save your sanity! Allocate your resources better and increase your productivity with a concrete pump. Save time and money by using a concrete pump to make the biggest concrete-laying jobs a cinch.
In addition to earning more money and decreasing labor costs by purchasing a concrete pump, you'll be able to take on new jobs that you couldn't take on before. Concrete pumps allow you to get much more done in a much shorter period. They allow you to pump concrete in places that you previously could not. For example, with a new concrete pump from Concrete Pumps USA, you'll be able to take on new jobs, such as the following:
Foundations for large buildings
Slabs
Columns
Bridges
Dams
and more!
Concrete Pump For Sale