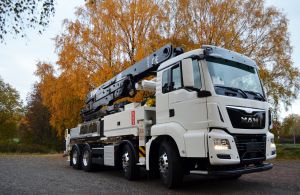 ROI was more significant than what you invest in it.
If you're in the market for a concrete pump, then look no further. Concrete Pumps USA has a large selection of boom pumps, and trailer pumps to choose from. 
You're sure to find one that's right for your needs. We also have used telebelts, city pumps, laser screeds, placement booms, mobile mixers, and stone slingers for sale. Our machines will help you save time and money and get the job done right. We have the perfect pumps for industrial, commercial, and residential jobs.
You see the practicality of owning a concrete pump, but you're not sure if you can afford to pour a bunch of money into one. You're looking at it from the wrong perspective. Your concrete pump is an investment that's going to make you more money than you can ever imagine. It's going to give you an 
Concrete pumps are highly efficient and can pour and place large amounts of concrete in just a few minutes. This is important since concrete only has a lifespan of 90 minutes or less after it's mixed. Further, with a concrete pump, you won't need to rent a whole bunch of equipment to do the job. Equipment rentals are one of construction company's biggest expenses. More of your labor force will be freed up and available to tend to other pressing matters on the job.
Concrete pumps are especially valuable on projects with tight budgets and stringent deadlines. By laying significantly more cubic feet per hour, you'll eliminate the need for buckets, wheel barrels, and cranes. Your concrete pump will enable you to mix and pour concrete in one location. You'll have less mess, spills, and drips, leaving you with less cleanup.
Hard to reach areas will be a breeze when you're using your concrete pump. Our pumps can easily pour concrete over, under, around, or behind any obstacle or tight spots. Our concrete pumps for sale are perfect for bridges, buildings, skyscrapers, extensions, foundations, columns, and more. You'll be able to operate with a smaller labor force without sacrificing quality or safety. Simply insert the hose and let the pump do its job.
The construction industry is booming, and the trend is going to continue. Now is the perfect time to make the transition out of your boring 9-5 and take control of your destiny. You don't have to have any prior experience to start a successful concrete business. Your concrete pump is a business in and of itself. Even if you just rented your concrete pump, it wouldn't take you long to see a decent ROI. The concrete pouring industry is a very lucrative one, and you can capitalize today. Contact us to discuss which pump is right for you.
We'll teach you how to operate your pump properly and safely, and we'll support you after your purchase. Know that if you're responsible for your equipment and accountable with your customers, you'll never lose in this industry. You might lose some money at first, but that's to be expected with any business. There's a learning curve to get around, but then it's all downhill from there. Contact Concrete Pumps USA to check out our concrete pumps for sale.
Concrete Pump For Sale