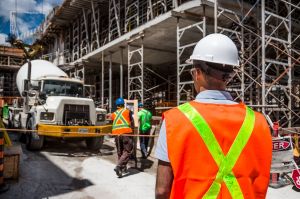 When it comes to buying a concrete pump that is used, there are a lot of available options to choose from. However, when you buy used items, you are taking the chance of purchasing a real piece of junk. One way to avoid being scammed is to purchase your used pumps at Concrete Pumps USA. Our team can provide you with the ultimate customer service experience by wowing you with our impressive selection of used concrete pumps and equipment. We strive to offer the best level of customer care so that our clients will also turn to us for their construction needs now and in the future. When it comes to prices, our rates are some of the most affordable because we believe it should be easy to access the construction equipment that you need.
Main Types of Concrete Pumps
There are three main types of concrete pumps to consider before you decide to make a purchase. The most common type of concrete pump is a boom pump that is truck mounted and has a robotic articulating arm that is controlled with a remote. A boom pump is good for pumping large volumes of liquid concrete at one time, so it is a good match for larger construction jobs. A substantial amount of labor is saved with a boom pump because the robotic arm is multipurpose.
Trailer, line, or stationary pumps are all the same type of machinery and require rubber or steel hoses that can be attached to in order to reach jobs that are farther away than the truck can maneuver. This type of concrete pump is ideal for pumping smaller amounts of liquid concrete.
Specialized Usage Concrete
The last type of concrete pump is called a specialized usage pump, and it is used only in special cases such as in mines or in tunnels. This type of pump is expensive and usually skid mounted, but they are not needed for most common construction jobs. Unless you have a special project, this type of concrete pump should be avoided because it is not practical for most construction projects. Even if you opt to buy a used specialized usage pump, you can still expect to pay a pretty penny. It is recommended that you stick to the two most common types of concrete pumps so you can stay within your budget. While specialized usage concrete pumps do have their own unique set of advantage, they are not a practical option for most construction projects.
Purchasing a Used Concrete Pump from Concrete Pumps USA
Concrete pumps can provide a long list of benefits to your construction crew and projects as they are able to handle more concrete and require less manpower. Each and every time you can expect quality work that is top of the line, and concrete pumps can cut down on overhead costs. Visit Concrete Pumps USA to find a wide selection of inventory to choose from. Our team can help you get the best deal when purchasing a concrete pump that is used.
Used Concrete Pump