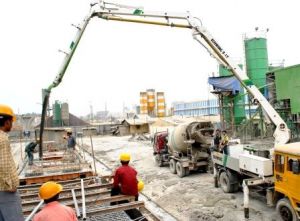 At Concrete Pumps USA, we purchase, repair, refurbish, and resell all types of concrete pumping machines and equipment. We don't care what kind of condition your machine is in; we can make it work like brand-new! You will find the best selection of high-quality pumping equipment, parts, and of course, the best Concrete Pumps in North America.
Whether you buy a concrete pump new or used from us, we guarantee the best! We have hundreds of thousands of dollars in part and equipment to make sure that every repair and refurbish is top quality. We can take concrete pumps in the worse condition and make them beautiful, functioning machines again. It doesn't matter if the machine doesn't have a manifold, doesn't have an engine, or if it doesn't have a hood cover. Concrete Pumps USA will buy it, fix it, and get it running like brand-new!
Buy the Best Used Concrete Pumps from Concrete Pumps USA
In the United States, the economy fluctuates each year. Still, even when the economy is at its best, most people can do little more than scrape by. That is why most people can't afford to purchase a brand-new concrete pump. But they can afford to purchase a used concrete pump that works as good as new. That is why they choose Concrete Pumps USA. They can get the best concrete pumps in the world at an affordable price. Our used concrete pumps can save you hundreds of thousands of dollars over a lifetime.
Buy the Best New Concrete Pumps Here
When we talk about the best concrete pumps, it's important to point out that Concrete Pumps USA has both used and new concrete pumps for sale. We have been in business for a very long time, and Concrete Pumps USA is a name that is synonymous with excellent prices and high-quality. We also offer full warranties and financing on all of our concrete pumping equipment, both new and used.
In terms of new concrete pumps, you will find nothing but the best brands here, including Putzmeister, Schwinn, Alliance, Reed, Concord, Cifa, Sany, Olin & Mayco. With our convenient and affordable financing options, Concrete Pumps USA makes getting the concrete pumping equipment of your dreams a real possibility. You can choose from a full line of boom pumps, trailer pumps, telebelts, city pumps, laser screeds, placing booms, and mobile mixers.
Let Us Know How We Can Help You
Owning the best concrete pumps in the world is a lot easier than you might think it is. Of course, it all starts with a phone call or a visit to our yard if you are in the SLC area. Talk to one of our representatives today who can point you in the right direction. Concrete Pumps USA prides itself on providing the best concrete pumps in the world and the best customer service in the world. Let us know how we can help you. Give Concrete Pumps USA a call today.
Best Concrete Pumps