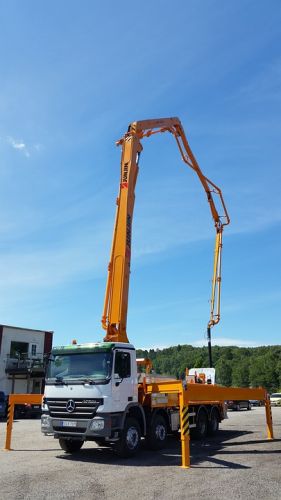 Concrete Pumps USA has concrete pumps for sale. We service the entire U.S., and we've got the pumps you need for any job at an affordable price. Check out our selection online any time, give us a call or send us an email, and we'll get back with you ASAP (within 24 hours).
The Power of Having the Right Tool for Your Job
Different jobs call for different tools. A job can only be completed as efficiently and well as the tools being used allow. Certain construction jobs require concrete to be laid, and for these jobs, you need a concrete pump. Concrete pumps are invaluabe tools in terms of time and money. Not having a concrete pump for concrete laying projects is equivalent to hanging drywall with a screwdriver.
The benefit of a concrete pump is most appreciated in situations when a need to lay concrete in difficult to reach areas arises, such as building tops, the middle of a tunnel, or any place that is hard to reach. Concrete pumps are designed to feed concrete mixture from a long distance that concrete mixers can't reach. These machines allow your team to operate in an efficient and highly effective manner.
What Kind of Pump Should I Use?
At Concrete Pumps USA, we have many concrete pumps for sale. Before selecting a pump, you need to understand which kind of pumps there are and which kind of pumps work best for a given job. Basically, there are two types of concrete pumps - boom pumps and line pumps (commonly referred to as trailer pumps). Let's consider the difference between the two.
A line pump is compact, easier to transport, and is typically used for small to medium-size concrete laying projects. A line pump is mounted on the back of a trailer or truck. In most instances, trailer pumps are used to fill metal or wood forms into concrete slabs.
Depending on the nature and specific requirements of a given concrete laying project, you can decide which pump best suits your needs.
Boom pumps are ideal for larger construction jobs. Boom pumps have a hydraulic arm that can lift to the needed height (or depth) or distance and pour concrete in hard to reach areas. Boom pumps transport concrete mixture from a hopper to the pour site, and they can reach spots that ground line pumps can't.
If you need help making a selection, we're glad to help. Just reach out. We can help you find a pump within your budget, help you define your purpose, and provide you with a concrete pump made by your favorite manufacturer.
Choosing the Right Manufacturer
The last point (the part about the manufacturer) is one of the most critical points to consider. You should choose a concrete pump that is manufactured by a trusted brand. Of course, we sell only the best concrete pumps made by the most reliable manufacturers. All of our pumps will deliver the performance you need - money back guaranteed! You've got nothing to lose when you choose Concrete Pumps USA. See all the different concrete pumps for sale on our website, and don't hesitate to call for help.
Concrete Pumps For Sale