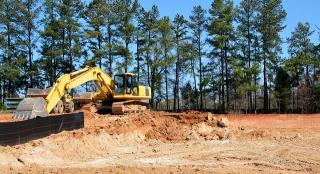 Investing in new equipment for your construction company is a smart way to prepare your business for the future. Before you decide to invest in equipment for your business, you need to decide which types of equipment you need the most. Take an inventory of your construction equipment that is in good working order and consider if any need to be replaced.
If you have equipment that is constantly breaking down, you should always buy a new replacement model. It is a smart business decision and investment to replace broken down equipment for a variety of reasons, but especially for safety reasons. Think about what type of construction work your company is hired to do the most often. Ask yourself whether or not your company has the proper equipment to handle the jobs it is hired for the most often.
Types of Construction Equipment Worth Investing In
When you invest in construction equipment, there are tons of options to choose from. A solid construction company should have a well rounded inventory of equipment available to them so they can handle any job they are hired for. Concrete machines are some of the most commonly used pieces of equipment in the construction industry. If your company does a lot of concrete work, you might want to consider the following types of equipment:
There are four basic types of concrete pumps, but the two most popular in small scale construction are boom pumps and trailer pumps. These types of machines can pump concrete at a high volume, which makes the pouring process go faster and more smoothly. These pumps also require less manpower than traditional concrete pouring techniques, which is another reason to consider adding one to your list of equipment. For the best deal on high quality concrete pumps for sale, visit Concrete Pumps USA.
Concrete mixers homogeneously combine water, sand, cement, and gravel to create a fine mixture of concrete. When large volumes of concrete need to be mixed for a construction project, these machines are handy to have around. They can speed up the process of mixing concrete because they are able to operate on a large scale. There are multiple types of concrete mixers available to choose from, but each one has its own list of perks and benefits. There are self loading mixers, hand fed mixers, and even transit concrete mixers. Consider your company's personal needs before deciding on a type of mixer.
Not all companies use concrete batching plants, which is a shame because they can be very beneficial. This type of equipment can make sure that the concrete you use in your projects is mixed properly and accurately. The concrete is made at the batching plant and then transported to the site where it is needed. One of the main perks associated with a batching plant is that it can greatly cut down on the amount of waste that occurs. Plus, most models are budget friendly if you shop in the right places.
Concrete Pumps For Sale