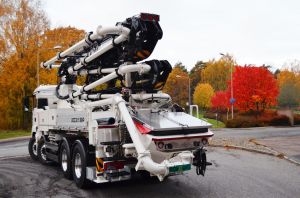 Concrete Pumps USA sells only the best concrete pumps in the country. No matter which state you live in, we can help you find an affordable used concrete pump to serve you well over the years. We carry the biggest names in equipment to ensure your absolute satisfaction with your purchase. See our inventory to browse Telebelts, Boom Pumps, Stone Slingers, Mobile Mixers, City Pumps, Trailer Pumps, Placing Booms, and Laser Screeds, all at some of the best prices you'll find when shopping online.
Which Concrete Pump is Right For My Job Site?
Different jobs call for different types of concrete pumps; if you're not sure which kind of pump to buy, feel free to reach out to one of our equipment pros for a recommendation. Concrete Boom Pumps are very popular and can help your crew move concrete to remote areas of your construction sites, saving countless hours of labor and reducing physical exhaustion. See our entire line of Boom Pumps from Schwing, Knuckleboom, Alliance, Putzmeister, KPC, Cifa, Concord, and many others or call us to source a Boom Pump to meet your needs.
Do I Need a Concrete Pump On-Site?
The question is not really whether you'll eventually need a concrete pump, but more whether it will be more financially beneficial for you to buy or rent. If you only occasionally find that you need to rent equipment for moving concrete, buying may not be the better option. If, on the other hand, you frequently call a rental agency, have to wait for equipment to arrive, and pay a high rate for hourly use, owning could save you a lot of money over time. At Concrete Pumps USA, we recognize how difficult it is for many of our customers to purchase a used concrete pump out-of-pocket, and we've made it easy to finance our used equipment.
Affordable Monthly Payments
Having the right equipment on hand means you'll save time and money- and it's never been easier to invest in the best concrete pumps. Apply for financing directly through our website and you'll receive a fast response- typically within 24 hours. Our single-page application is easy to fill out, so you won't have to spend a lot of time with it. 100% financing is available, so you can own the equipment you need without a down payment. Terms up to 60 months are available to help you afford the best concrete pumps available on the market.
New & Used Equipment
Reach out to us with your questions when looking to buy a new or used concrete pump, knowing we can provide you with immediate access to the best concrete pumps in the US. We're located out of Utah; however, we consistently work with buyers from all corners of the country, sourcing quality equipment at reasonable prices. Look no further for your next concrete pump- we have what you want in stock or we can find what you're searching for.
Best Concrete Pumps