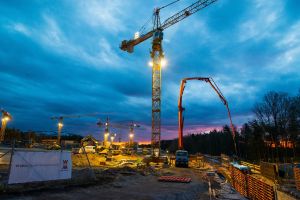 Concrete pumps are generally known to offer the most efficient means of placing concrete for a construction project. As a matter of fact, the machines are responsible for expanding the imagination of skyscraper engineers and developers because they make it possible elevate the cement material to those heights. Simply, put they make modern construction possible.
Any other method of conveying and pouring concrete other than the use of concrete pumps can cause adverse effects and even result in unsafe conditions. When it comes to selecting concrete pumps for sale, it always important to understand that this equipment can significantly help to reduce that amount of manual labor, as well as costs.
Importance of concrete pumps
Apart from being a very economical method, pumping has made the job of placing concrete to be very efficient and reliable. In some settings, the use of a pump could be the only means of placing concrete such as on large slabs or high-rise buildings where the chutes of concrete trucks may not be able to reach the intended point of pouring.
Interestingly, these machines help to provide concrete with an effective ease of access to hard-to-reach areas. Today, concrete pouring is enabled most people's comfort zone, thanks to the availability of high-pressure pumps enhanced with long lines and booms. No doubt, if it weren't for modern concrete pumping equipment, many buildings and a range of other construction projects wouldn't have been economically feasible.
Types of concrete pumps
Just so you know, the use of concrete pumps is the most economical method of concrete placement. Thanks to the ease and speed of pumping they employ. However, when it comes to choosing concrete pumps for sale, it's important to know that not all pumps are the same. These ingenious machines are available in different pump types.
Boom Pumps
These are the most popular types of machines used for pouring concrete. Boom pumps are commonly employed to place concrete in locations that are hard to reach or access. These units are available in various sizes and types. Based on your construction needs, you can opt for
-              Stationary pump: this pump is commonly used to place concrete in hard-to-reach areas especially locations that are inaccessible by a boom truck. These enormous pumps are usually used to place concretes over long distances in large amounts. They are usually mounted on a strong frame.
-              Line pump: when it comes to pumping construction materials such as sludge, mortar, and grout, the line pump is the most commonly used. These pumps are so portable that they can be moved throughout the work.
-              Concrete boom trucks: this basically comprises a pump mounted on board a large truck. In order to ensure maximum efficiency and relative speed of work, this pump is basically designed to work with a highly powerful pump kit.
Your choice of concrete pumps for sale will depend largely on the type of work you are looking to perform or the kind of project you want to carry out. Remember to also consider the distance to be pumped, the layout of the construction site, as well as the characteristics of the material that is being pumped.
Concrete Pumps For Sale