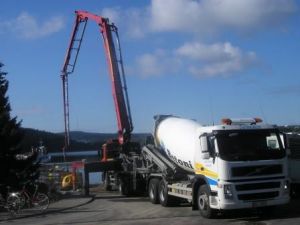 With the ever booming industrial age that has seen amazing and exclusive structures like the louvre Abu Dhabi, and Burj Khalifa, the great Istanbul tunnel, and the Beijing airport being designed and implemented into perfection, one can't help but wonder how developers came to attaining such perfections within short periods.
All of this is accomplished, thanks to the influence of tech and the ever-driving force of humanity as a whole to test and push the boundaries of development and architecture.
One equipment that has greatly assisted in this drive to attaining perfection is the concrete pump.
Concrete is a very important tool in development, so much so that it has a worldwide implementation and is applies in just about every construction project you come across. This is partly due to its high durability and rather easy implementation means.
Concrete can be applied manually but that in its right is a little over demanding considering there is a faster and safer way of going about it.
The application of a concrete pump is usually the best practice when working on construction due to its many positive benefits, one of which is a reduction in application time.
Concrete pumps are an amazing tool for large commercial construction projects, but what about residential placements?
It is evident that concrete pumps are the go-to option for large commercial projects due to their high benefits but in smaller projects, individuals might have a second thought, why?
Well for one, cost. Any concrete pump, be it a line pump, or boom pump don't come cheap and there's the project aspect as residential projects usually allot less money than commercial projects like railways, bridges, and so on.
But regardless, making use of a concrete pump is still the most favorable practice for any construction job regardless of its scale.
Some simple maintenance strategies for concrete pumps.
As stated previously in the article, concrete pumps don't come cheap, so its best any at your possession is the ought most maintenance procedures possible.
You can carry out daily, weekly, or monthly checks depending on the usage hours of the concrete pump.
Your maintenance checklist should include.
Checking the oil to confirm any shortages.
Greasing the pump regularly and checking the grease pod.
Carrying out water replacement of water in the water box.
Checking all fuses for issues and replacing blown ones regularly.
Confirming boom filter gages are always in the green.
ensuring all prop switches are working.
Ensuring there are no leakages in boom.
Confirm conditions of gaskets and replace damaged ones.
Inspect wireless controls if any.
Inspect material cylinders.
Above are 10 of the essential aspects you must look into when carrying out maintenance of a concrete pump so as to prevent unwanted damages and abrupt breakdowns down the line.
Proper maintenance goes a long in ensuring the longevity of your concrete pump no matter the quality and standard of the concrete pump in question.
Concrete Pump