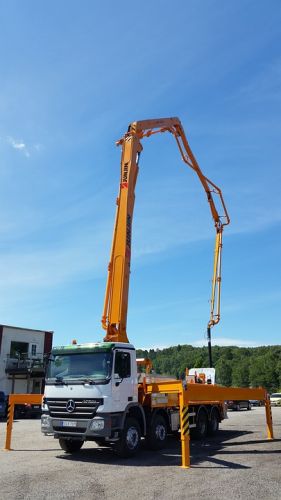 A concrete pump is an important tool in modern society since most large-scale construction projects utilize concrete. As buildings get taller, more powerful pumps are used. If you find the right concrete pump for sale, your concrete projects will be a breeze versus more primitive methods.

Should I buy a used concrete pump?
Just like any other equipment, considering a used pump really depends on its condition and how much you are going to use it. Considering that the tech has been changing, you shouldn't get something that is too old as there are diminishing returns. Also, equipment that has been abused too long would be hard to resell.
A used concrete pump will save a lot of money if the right purchase is made. When you buy a new pump, the price will degrade as soon as you take it off the lot. For that reason, it would be smarter to buy a used product that's relatively new so you don't lose that initial drop in value.
If you need to work on projects far from your home base, you definitely want to buy something used. This is because the costs associated with transporting that pump back home may not be worth it, so a small initial investment and immediate resell will mitigate losses.

What does a concrete pump operator do?
A concrete pump isn't automatic, which is why a trained professional needs to be operating it. They are in such high demand that they may be going to multiple sites per day.
A pump operator knows these machines thoroughly and is responsible for setting them up, cleaning them and using the pump to place concrete. They are also responsible for inspecting the machines to make sure they are up to code and make repairs if needed.
This is also a physically demanding job. Aside from purchasing a concrete pump for sale, you need workers that can handle lift, pull and push a decent amount of weight without failing. If your operator has poor dexterity and strength, the job may end up in ruins.
How should I clean my concrete pump trailer or truck?
Mixing and pumping concrete on the spot can make a huge mess, so cleaning goes hand-in-hand with this profession. There are many concrete cleaning products, like those made by Mortarman, that can remove concrete safely and easily. If you are worried about environmental hazards, consider using a product without hydrochloric acid.
Such cleaners may be used in the interior and exterior of the machine. You will want the cleaner to sit after its initial application for up to 30 minutes before scrubbing. Using a brush, put some elbow grease into it and get rid of any concrete remnants. You can then rise everything thoroughly with a hose.

Whether you purchase a new or used concrete pump, you will want to have the right people operating and maintaining it. If you are looking for a reasonably priced concrete pump for sale, give us a call or check out what we have on our online store.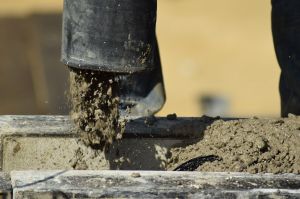 Concrete Pump For Sale