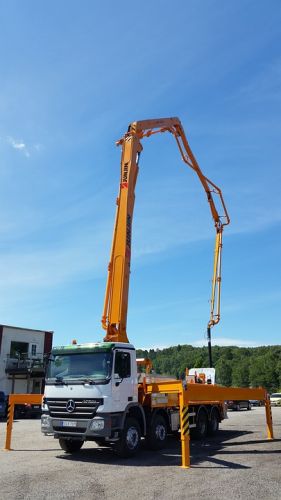 For serious concrete construction jobs, concrete pumps are a necessity. Since there are a variety of new and used pumps on the market, you will need to put a lot of consideration on where your money is spent. This includes factors like features you need, the price and the cost of the project.
Will Your Old Equipment Suffice?
If you already have an old pump, you should evaluate what your needs really are and if it's worth an upgrade. Take into consideration if you need more pumping power to create higher buildings, portability, or even energy efficiency. If your old pump fits into your future projects and it's in perfect shape, you may not need to go shopping just yet.
What Are The Maintenance Costs Like?
If you are upgrading to a large and more expensive concrete pump, there may also be more expensive maintenance and repair involved. In the construction industry, wear & tear is inevitable so more expensive gear needs more of an investment to take care of.
When buying replacement parts for your machine, prices and availability will vary depending on the model. Before you buy concrete pumps, take a look at part prices online to see if it is worth it in the long run.
Is the Manufacturer Reputable?
While a piece of equipment may seem like an amazing deal, you should still take the track record of the manufacturer into consideration. For example, if the company is known to produce products that break down or need repair frequently, the low price tag is not so cheap anymore.
The company's ability to fulfill warranties is also important when buying new equipment. Buying something more expensive but with an amazing warranty can also save money on parts or repair.
It is also important that the manufacturer still produces its own replacement parts. It would be a huge drag if your concrete pump is rendered useless in the near future simply because you can't find the right part.
Can You Trust the Dealer?
When buying construction equipment, it is unlikely you are buying through a third party dealer. In this case, you should read up on the company's reputation so that your experience will go smoothly. This includes things like the replacement of faulty equipment, their inspection of equipment, and their ability to produce the right purchase documents.

Will You Be Able to Resell it?
If you are working on a temporary job and need to buy concrete pumps, your ability to resell them will affect your profit margin. The price you can sell it for may not necessarily reflect what you paid for it retail and the brand is always a major factor.
In this case, you should do a little market research on which pumps seem to hold its value. Assuming you don't need the pump in the long term, you may as well buy something used to mitigate losses from devaluation.
Conclusion
Your decision to buy concrete pumps is a big investment and should be taken without much consideration. If you need help finding exactly what your business needs, consult with us at
Buy Concrete Pumps