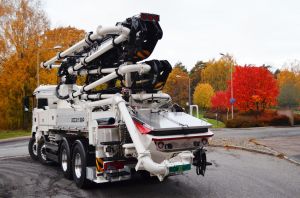 Buy new and used concrete pumps at Concrete Pumps USA. If you're looking for a quality and affordable concrete pump for sale, you've found the right place. Concrete Pumps USA is the number one retailer of concrete pumps in North America. We deliver anywhere in the US and even to Canada. We have a variety of brand name concrete pumps to choose from, including line pumps and boom pumps. Feel free to take a look.
Save Yourself a Ton of Money by Purchasing a Used Concrete Pump
At Concrete Pumps USA we purchase and sell concrete pumps. Each used pump we purchase and resell undergoes a rigorous inspection at the time of purchase. We only purchase used concrete pumps that are slightly used and still in excellent shape. Additionally, once we purchase a pump, it becomes the subject of a routine maintenance program that we implement for all of our concrete pumps. Cleaning, inspections, and maintenance are an ongoing occurrence for every piece of equipment and machine on our lot.
If you are looking for a concrete pump for sale, you likely already know the benefits of owning your own. Surely, you will save tens, even hundreds, of thousands of dollars in the years to come on labor costs alone. This accounts not only for the labor that you would pay your employees to pour concrete by hand as well as how much you might spend renting a concrete pump every time you need one.
Make More Money with Your Own Concrete Pump
Not only will you save money, but you will actually make more money owning your own concrete pump. First, you will significantly increase the productivity of your workers. Jobs that took several hours or the better part of a whole workday to do will now be done in less than an hour. This allows you to strategically focus your precious and limited resources to more efficient means. Plus, when you're not using your concrete pump, you will have the option to rent it to other contractors, thus ensuring that your concrete pump is a year-round money-making machine.
Our Used Pumps Run Like New and Sell for a Fraction of the Cost of a New One
Concrete Pumps USA is where you can find a slightly used concrete pump for sale that runs like brand new and for pennies on the dollar. For example, for a brand new Putzmeister pump, depending on the make and model, you could expect to pay no less than $79k. You can find the same pump slightly used at Concrete Pumps USA for $36k. Both our new and used equipment comes with a full warranty for your protection. As you can see, buying a concrete pump from Concrete Pumps USA is a worthy investment with substantial short-term and long-term ROI.
Give Us a Call or Send Us a Message
Increase your job site efficiency, save large sums of money, increase company productivity, and earn more money by owning your own new or used concrete pump. Concrete Pumps USA is where you will find the perfect concrete pump for sale. Check us out online or give us a call. We'll help you find the pump that's ideal for you.
Concrete Pump For Sale