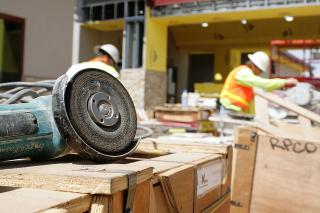 Look no further than Concrete Pump Sales for your used concrete pump. We have an amazing selection of trailer pumps, boom pumps, telebelts, city pumps, laser screeds, placing booms, mobile mixers, and stone slingers- all at prices you're sure to appreciate. Check out our inventory online or call a specialist from our company to inquire about Putzmeister, Schwing, Reed, Alliance, Concord, Cifa, Mayco, Olin, or Sany used concrete pumps.
We Make it Easy to Buy From Us
Check out loans and leasing for your used concrete pump by filling out the single-page application in our financing section. If approved for financing, we'll let you know within 24 hours, so we can begin the process of completing your purchase. Financing through our website features flexible payment terms of up to 60 months- or longer if needed. 100% financing of your equipment is available, so feel free to reach out to us and let us know what we can do to help.
Get a Great Deal on a Used Concrete Boom Pump
Our selection of quality boom pumps includes Schwing 23-meter concrete boom pumps, Putzmeister 28-meter concrete boom pumps, reduced pricing on 32-meter Putzmeister concrete boom pumps, warrantied KCP 40-meter concrete boom pumps, and a wide range of other options in sizes and brand names. If you need a boom pump, we have one that will make your job easier- up to 63-meter pumps!
Wheel Mounted Trailer Pumps
Save on a used concrete pump that will pull behind your truck and check out available equipment on our website. We carry trailer pumps from Transcrete, Blastcrete, Ventures, Mayco, Olin, Reed, Schwing, and Putzmeister. Click on any of our pumps to find additional information on hours of usage year of manufacture, capacity, outlet, model and more. You'll also see a seller's description on each item's page. For additional information, give us a call with the equipment #, and we'll look into our records to assist you further.
Website Resources
Click the 'Links' button to find concrete pump owner resources, like links to pump parts, and concrete restoration information. For company info, visit our 'About Us' section or call us any time. We want to be your single source for a used concrete pump anytime you're in the market for quality used equipment at the best prices on the Web. There's no reason to pay more than you have to for pre-owned equipment when we have what you're looking for at a better price than our competition.
Shop With Us and Save
Make our website your first stop when purchasing a used concrete pump. You'll find hundreds of items in our inventory, hand selected for resale from our equipment specialists. Use our website's convenient sitemap to navigate to any page quickly and easily when searching for a particular type of concrete pump. Call us with your questions about a product, financing, or other issues, and we'll be happy to help you get set up with the right equipment for your job site.
Used Concrete Pump