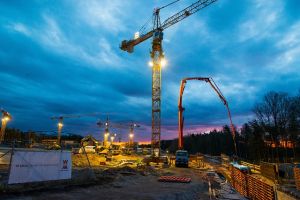 Choosing the right used concrete pump makes a difference in your projects. Whether you are looking for a boom truck or portable mixer, knowing the tradeoff between flexibility and volume is important. Concrete Pump USA can help you find the right equipment for your projects.
Which types of concrete pumps exist?
There are multiple types of concrete pumps based. The equipment you choose depends on volume and maneuverability.
Among your choices are:
Boom or truck mounted pumps
Trailer or line pumps
Specialized usage pumps
Trucks are more heavy-duty than specialized pumps. Certain types of pumps are perfect for work on buildings or areas that require fitting into tight spaces.
Boom Trucks
Boom trucks are flexible and can handle large volumes. They push concrete over a boom attached to a stationary truck. This equipment is perfect for volume as laborers can influence where the mix goes over a high capacity pipe.
Boom trucks also save you time. Many have robotic arms that extend over a great distance. There is no need to haul the hoses, tools, and other equipment required to push the concrete.
Trailer or Line Pumps
Line pumps have hoses that attach to a trailer. The lines can be connected to form an intricate network. They are useful for smaller projects than boom trucks due to their lower flow rate. This gives laborers a great deal of control over quantity and shape.
There are many types of projects where a line pump is useful. Use this equipment for swimming pools, some foundations, sidewalks, and patio areas.
Specialized Pumps
Specialized pumps are made for specific projects and areas. Manufacturers make pumps for mines, skyscrapers, and other areas that are difficult to reach.
Pumps can be mounted on rails or be made to be mounted on certain types of vehicles. Concrete Pumps USA can help you find the perfect pump for your company or project.
When to Use a Concrete Pump
Pumps work well when you need to place a large amount of concrete quickly. There is no need to manually mix product and expend extra manpower to perform the arduous task of carrying setting concrete.
Pumps are perfect for construction companies and others with a large or many different projects. They save time and money over the long run while freeing up labor for other projects. Despite being initially costly, pumps are eventually highly profitable.
Selling my Used Pump
Another benefit of a concrete pump is its resale value. Whether vehicle-based or not, they lose value more slowly than other equipment due to their helpfulness.
Concrete Pumps USA can help you replace your existing pump while recovering the cost by selling your old equipment. Upgrade at a lower cost to a higher volume pump.
Choosing the Right Used Concrete Pump
A used concrete pump is useful and still capable. Choosing the right pump depends on your project type. Once you are ready to move on, we can help you sell your pump and upgrade.
Get in touch with us for more information.
Used Concrete Pump