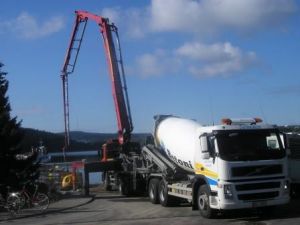 When using any concrete pump model, you should fully understand your responsibilities as a professional contractor. These pumps are known for quickly pumping high volumes of concrete for construction projects, but they can be dangerous. Setting safety goals for your construction crew is beneficial in several ways. By implementing safety strategies that use the proper equipment, your team and your equipment will remain unharmed.
The American Concrete Pumping Association highly urges all concrete pump operators to seek safety certifications. Keeping your staff up to date regarding the latest safety guidelines and procedures will prevent accidents and reduce general costs. Once your team is properly certified, you can follow the basic guidelines for safety when taking on any new construction project.
Preparing the construction site for work is another critical component involved with keeping your crew safe and your equipment in good shape. It is not wise to operate a concrete pump on uneven or unlevel ground for multiple reasons.
Essential Safety Tips for Operating Concrete Pumps
Anyone operating a concrete pump should wear safety goggles and gloves. It is also suggested to have a friend or coworker readily available to lend a hand. When running a boom pump, you should make small movements using the remote-controlled arm. Working quickly may seem like the right avenue to follow, but it is more beneficial to work safely, even if that means working more slowly.
Be cautious of powerlines when working with all construction equipment. If needed, remove tree branches or other potential hazards before you begin your project. Concrete pumps work best when used on a level surface that is free of dips or bumps. Make sure the construction site has plenty of room to operate all of your machinery. Construction crews must practice adequate cribbing to distribute the load of cement. These small tips can make a big difference in the general safety of your construction crew.
Pouring Outrigger Procedures
While powerlines are the number one problem construction crews face, poorly executed outrigger procedures are even more troublesome. Poor outrigger tactics are one of the most common causes of accidents among concrete pump operators.
Quality cribbing can help prevent most of the common issues related to outrigger procedures. Fully extended riggers can prevent tip-overs from taking place. Knowing the load capacity of the area you are working on can also be beneficial in boosting safety at the worksite.
You should check the status of all hoses, chains, and cords associated with used concrete pumps. Routine quality and safety checks can pinpoint problems before they cause severe trouble or accidents. For example, spotting frayed electrical wires can prevent fires and other electrical safety issues.
Insurance for Used Concrete Pumps
When purchasing any used machinery, you should invest in insurance to protect your investment. General liability coverage is not enough to fully financially protect yourself from future breakdowns or mishaps. Take the time to learn about the coverage offered by available insurance policies. Insurance for your construction equipment is a wise investment to protect your assets in the future.
Used Concrete Pumps