Concrete pumps exist in different types; after all, they are the only proper equipment that efficiently pumps concrete for a construction project. These smart machines enable the possibility of raising cement material to heights that fuel skyscraper engineers and developers' creativity.
However, selecting concrete pumps from a renowned manufacturer also facilitates the construction process. Manufacturers such as Schwing, Putzmeister, Reed, Concord, Alliance, and so many others are available in the market to select from, as we all know, reputation is a factor to be significantly considered. 
Does Brand Matters When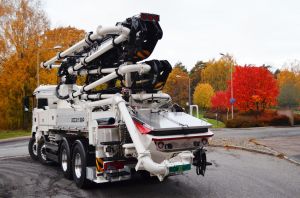 Selecting Equipment That Pumps Concrete?
The Concrete Pump has continued to be one of the essential machines across the world for construction projects with their unique functionality and unrivaled performance of liquid concrete transfer. So, whatever project you might be embarking on, whether a mini construction project or a huge one, this is certain; a concrete pump will be there to lead you with impeccable reliability, productivity, and efficiency. So, what function does this concrete pump serve?
The answer remains that these concrete pumps' primary function is concrete pumping, as the name implies! This machine pumps concrete as they quickly transfer liquid concrete to a destined location where it's then poured out into specific forms. From the construction of backyard pools and driveways to concrete slabs and high-rises, concrete pump form bases to it all.
So, if virtually all concrete pumps provide almost similar results, why then does it matter which brand to choose? Well, as long as you can't pour your concrete by hand, Capability then becomes the critical thing. Though, it's straightforward that these machines feature a substantial amount of specialized technology if well-constructed and also provide access to more significant on-site results. Well-constructed concrete pumps and trucks are more reliable, capable, and productive than their low-quality rivals. To achieve this, which brand should you choose?
Here Are The Top Two Concrete Pump Brands
Discovering which concrete pump that perfectly suits your construction project is the primary step when searching to hire or purchase a machine. However, selecting from the leading brand comes next. So, are you in search of budding new line pumps? Or perhaps, world-class boom pumps? Here are our major top two brand pick.
SCHWING PUMPS
Schwing is manufacturers of boom truck pumps, trailer, and line pumps, placing - placement booms to provide a prototype for all kinds of applications, which includes boom truck pumps with over 60-meters of reach. Most Schwing stationary line pumps and trailer pumps are offered in different ball valves and larger rock valve models.
Also, Schwing trailer and line pumps come in small to medium ball-valve models, which are a good fit for lightweight concrete, flowable fill, shotcrete, and slurry pumping. The bigger rock-valve models pump harsh-mix concrete with large aggregate, which is voluminous over long distances.
Schwing is known to be one of the world's leading concrete pump manufacturers. Schwing concrete pumps are famed for their higher performance, quality, and high resale value.
PUTZMEISTER PUMPS
Putzmeister has been a top manufacturer ever since its inception, for over 60 years now. They've been able to deliver some of the highest quality, and reliable, distributing and placing machines that effectively pumps concrete. At present, they are manufacturers across the globe with a combination of German engineering, technology, and expertise, coupled with high manufacturing standards to deliver innovative machines to every part of the world. 
Putzmeister offers line pumps and trailer pumps in small and large S-Valve models. The smaller models are suitable in the pumping of mortar, shotcrete, grout, fireproofing mixes, and plaster. On the other hand, the larger models best handle more massive concrete pumping tasks required by concrete high-rise construction, tunnel construction, and long-distance conveying.
You can surf through our broad list of concrete pumps to get high-quality machines at highly-competitive rates!
Pumps Concrete