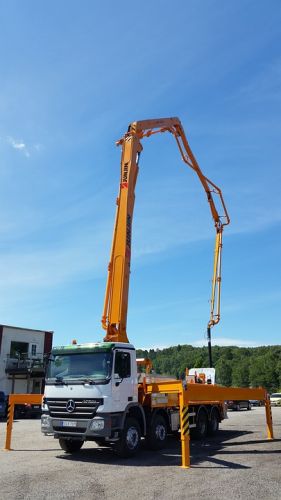 A concrete pump is a big-time investment, and before investing in one, there are some essential factors to be considered. Most investors find it challenging to decide whether to purchase a new or used concrete pump. However, all concrete pumps must be well evaluated before purchase. Sometime, the price of a new concrete pump may be higher than your budget, giving room to consider used ones that can serve the same purpose. Like every other used item, used concrete pumps should receive a strict evaluation before completing the deal.
Nevertheless, consider the factors mentioned below should before proceeding to buy a concrete pump, whether used or new. 
Market Demand
For investors who are planning on concrete pump rental services, this is one of the vital factors that should be considered, also bearing in mind that this factor applies to both used and new concrete pumps. Conduct a thorough research and market survey to know if there would be a high demand for your service in your area. Also, consider companies that offer the same service in your neighborhood. It will help you determine if investing in a concrete pump is an ideal option.
Type Of Concrete Pump
There are variations in types of concrete pumps for sales, such as stationary pumps, truck-mounted concrete pumps, specialized usage pumps, etc. These pumps have unique functions, likewise their applications. Stationary concrete pumps are perfect for small-scale applications, while truck-mounted pumps are ideal for large-scale applications. For special occasions such as making tunnels, the specialized usage pumps are required. Hence, the kind of project you specialize in would determine the type of concrete pump you'd purchase.
The Reputation of the Manufacturer
Manufacturer reputation is another essential factor that shouldn't get overlooked. Indeed, there are numerous manufacturers out there today, but not all can deliver quality products. The internet can play a significant role in finding renowned and reputable manufacturers. Always check out customers' reviews and manufacturer ratings.
Quality and Price
Almost all concrete pump makers utilize the same technology and quality; therefore, never make brand names your major priority in your decision-making process. In selecting a quality machine that will give you value for money, never consider price alone. Instead, consider the after-sales services accompanying your purchase, spare parts in case of repairs, and importantly, technical supports put in place as you use your concrete pump.
The market is extremely competitive, therefore research and choose from brand and suppliers with active after-sales support.
Warranty Options
Just as a warranty is crucial when purchasing other equipment, so it is when investing in a concrete pump. Getting a warranty for your purchased item is very important. Although some companies don't offer a warranty for used concrete pumps, a few do, and even offer up to a 12-month warranty. It helps you ascertain that you've gotten the best out of your concrete pump.
We wish you good luck as you embark on the search of your first or next concrete pump. For further inquiries on purchase, don't hesitate to reach us at Concrete Pumps USA. We've got the best of new and used concrete pumps that can enhance your business's success.
Concrete Pump