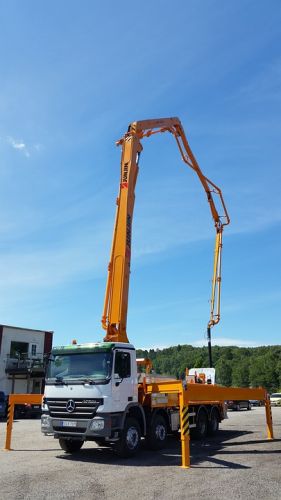 used concrete pumps" />Building sites have the potential to be and look like a torrential storm. This conclusion is especially true when you contrast the new technology with old tools. In previous years, builders used cranes to lift buckets of liquids across floors. The concrete pumps have cleaned out the chaos and hustle of raising single buckets. They ease the building process by pumping massive volumes of fluid to higher floors.  
The benefits of using a concrete pump
It can reach floors that are up to four levels higher
Fast pumping of at least 50m³ in an hour at a constant speed, ultimately accelerating the building process
It pumps more concrete hence cuts the labor cost by reducing the workforce
Mobile concrete pumps reduce the working hours by shortening the setup time
Frees the crane to perform other tasks such as delivering steel and formwork.
Types of concrete pumps
Boom pumps
These pumps can extend for up to 72m and allow for more extension. They are convenient in delivering loads around obstacles, such as over a house to the backyard. The remote allows the operator to move large volumes of concrete across an array of angles and locations like the stairway. They are a preferred option in moving the load to extremely high grounds and sharp corners.
Ground line pumps
These pumps perform most of their tasks on a ground level. They have a network of hoses and pipes that maneuver around small spaces such as in between houses, rough terrain, and obstacles. They transport a maximum of 1m³ in a minute.
Mobile pumps
It is attached to a truck consisting of a robotic arm and a concrete pump mounted on a truck's framework.
Truck mounted static pump
This pump includes a stationary pump that is mounted onto a truck without the boom, to reach distances that exceed the limits of the boom pump.
Stationary pump
It is mounted on a trailer and transports the concrete using an attached rubber or steel pipeline. The pipeline delivers the load to the desired location with the aid of an attached boom.
Truck mixer concrete pump
It has both a concrete and boom pump to expand transportation's mobility.
What do you expect from our online sales portal?
We have a variety of Used Concrete Pumps and complimentary tools. These include:
Boom pump
Trailer pump
Telebelts
City pumps
Placing booms
Mobile mixers
Laser screeds
Stone slingers
Concrete Pumps USA is the foundation of former engineer Joe Ciulla. The idea of constructional materials began in the sixties when he began operating heavy equipment and welding. In 1972, he set up a concrete pumps and Telebelts sales shop with a flexible financing system. The firm maintains its financial system by providing a fast turnaround, 100 percent financing plans, flexible terms of up to 60 months or more and both new and mused concrete tools. Joe centers the business on his experience and steady reputation in earthmoving, demolition, underground equipment, and other heavy machines and trucks. He began servicing contractors with concrete pumps and accessories in 2003 and maintains a stable business flow with quality and timely deliveries.