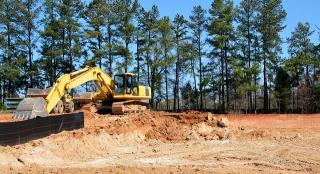 There are several advantages of using a concrete pump to place concrete in a certain area of desire, rather than using the formally popular bucket and crane system. The main reason for this benefit is because there is a constant flow of concrete, rather than an interrupted flow. This also means that a constant supply of concrete to the top, and the placing hoses can be positioned wherever they need to be so that the liquid concrete can pour straight out of the hose, where it's needed, instead of having to distribute a certain sized cubic yard mound of concrete over a desired area. If you are looking to buy concrete pumps for your construction company, trust the experts at Concrete Pumps USA, Equa Corporation to have the most durable and highest quality pumps at the most affordable prices.
Concrete Pumps USA, Equa Corporation is the known leader in the concrete pump distributor industry, and has been providing the most efficient and premium construction machinery throughout the entire area. We continuously strive in being the place where more contractors choose to buy concrete pumps for all of their construction needs. We have a wide selection of used equipment, such as placing booms, truck-mounted city pumps, tele belts, along with other quality made machinery that can boost your efficiency and save you money.
As with any piece of good construction equipment, concrete pumps can be somewhat costly, especially for a smaller type of business. This is why we offer 100% financing on our new and used machinery. As all contractors know, having the proper equipment will save them a significant amount of time and money. When you have machinery that will do the job in a fraction of the time it used to take, your labor costs are going to reduce themselves by thousands of dollars. Because of the precision that a pump can offer, you will also save money by having a considerably lesser amount of materials waste, as well.
Our company's main objective is to consistently provide the highest quality made new and used construction machinery that will get the job done, along with providing durability and long lasting performance. We have a large selection of the top named brands for you to choose from. Our strong, mutually beneficial relationships with our private sellers, dealers and buyers is how we all become and remain successful today, and in the future. For over the last 15 years, we have been providing the highest level of customer service to all of our valued clients and partners.
If you would like some additional information regarding how to buy concrete pumps for all of your construction requirements, Concrete Pumps USA would like to invite you to visit our web site. At concretepumpsusa.com, you can check out all of our equipment and even qualify for financing directly on our site. You can also leave your contact information, should you have any questions or comments. Please feel free to also call us at 435.615.0072 for any further information.   
Buy Concrete Pumps