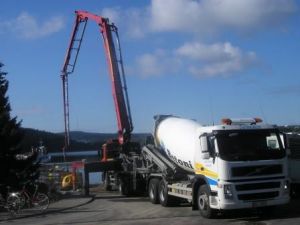 Buying a concrete pump for your construction business makes sense if you have a lot of concrete work to do. However, there are a few different types of pumps to choose from, which can make it difficult to figure out which one will best suit your needs and budget. The first thing you have to factor in is how much concrete work that you do and what kind of concrete work that you do. For example, a trailer concrete pump is a great option for pouring concrete for sidewalks, while a boom pump would be ideal for pouring concrete for swimming pools. If you only take on small concrete jobs, such as sidewalks, you might want to consider purchasing a trailer pump. There are not a lot of differences between a boom pump and a trailer pump, except for the boom.
To Buy New or Used: That is the Question
A lot of businesses struggle on the decision whether they should buy a new or a used pump. The answer to that question depends on how much you are able to spend on your purchase. A new pump can be a viable option if you are hoping to make a long term investment towards the future of your company, and you can justify the costs with how much concrete work that you get. Trailer pumps tend to be less expensive than boom pumps because they pump a lot less volume of concrete at one time. Buying a used pump can allow you to save a lot of money, but you could also end up facing expensive repairs if the pump was not properly taken care of by the previous owner. Buying a refurbished pump is only a good idea if it comes with a warranty, but you are free to take your chances if you really want to save money.
Benefits of Concrete Pumps
A concrete pump can provide you with a lot of benefits if your construction team needs to pump a lot of concrete. A concrete pump that is made with high quality will allow you to pump much larger volumes of concrete than traditional methods. This means that you will not need as much manpower in order to finish concrete jobs, which also means that you can apply that manpower to other areas of work that need attention. A concrete pump can ultimately save you a lot of time, and we all know that time is money, especially in construction. If you buy a trailer pump, you might save a bit more money than if you buy a boom pump. You should not need a specialized pump for construction work because they are mostly used for mines.
Best Place to Buy Pumps
At Concrete Pumps USA, you will find new and used pumps from all of the hottest brands. We can help you save time and money because we gather all of the best deals in one place for you to browse. We look forward to serving your needs.
Concrete Pumps