Why do more contractors buy concrete pumps from our website? Concrete Pumps USA has one of the largest online inventories and is committed to honest and reliable sales practices. We've been serving the concrete industry for more than 15 years, and in that time, we've grown a large and satisfied clientele who attest to our dedication. Shop our website for:
Boom Pumps
Our truck-mounted concrete pumps feature multi-sectioned folding booms, able to reach into areas more than 100 meters away. Due to exceptional maneuverability, concrete boom pumps have become the equipment of choice for most contractors delivering to low and medium height locations. We have a great selection of boom pumps from Schwing, Alliance, Putzmeister, Concord, Cifa, and a few other brand names.
Trailer Pumps
If you're looking for an excellent wheel-mounted unit, we have many trailer or line pumps available in our inventory, suitable for high rise structures, underground tunnels, and underwater construction. See our low-hours Reinert models, Transcrete units, and Blastcrete mixer pumps.
Telebelt Pumps
If you want a great deal on a Putzmeister Telebelt conveyor, look no further than our inventory. You can buy concrete pumps from us for a fraction of the cost you would pay for a new model- and many of our pumps have very low hours on them, like our 2015 Portable Trailer-mounted Telebelt Rock Hopper.
Concrete City Pumps
We have used concrete city pumps available from all major brands. Some are bargain prices right now, like the 1996 Putzmeister VS-1408 City Pump made by Mack. Financing is available on this item, as with every pump in our inventory to help make purchasing more affordable.
Laser Screeds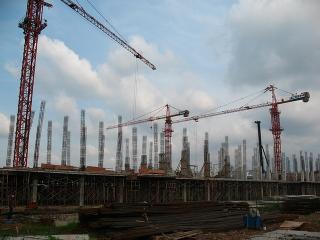 We don't have many Laser Screeds show up in our inventory; however, we have one in stock right now. Check out the 2012 Somero S-840 Laser Screed with very low hours and priced at $84,000. These units are difficult to find, so if you happen to need a good one, don't let this one get away.
Concrete Placing Booms
Browse Schwing, Putzmeister, and Sany placing booms in our inventory, like the Schwing 28-Meter 3-section Placing Boom with pedestal and new pipe and couplings. This item is in exceptional condition and is priced to sell. If you'd like additional photos of this model or have questions for one of our boom specialist, don't hesitate to call Concrete Pumps USA.
Mobile Volumetric Mixer Trucks
We have many great mixer trucks available, including a 2015 CemenTech Mobile Concrete Mixer and a recently reduced-price 2012 CemenTech Mobile Concrete Mixer. If you're looking for something with extremely low miles, check out our 2018 Omega Mobile Mixer made by Freightliner with an add-mix system.
Ask us about 100% financing options with quick approvals when you call or email one of our concrete pump specialists. Our customers buy concrete pumps from us because they know they'll get a great deal on quality equipment.
Buy Concrete Pumps